Many remember where they were and what they were doing on September 11, 2001 as they watched and heard the morbid and horrific events of this day, eight years ago.
Today, I present this posting as a multmedia remembrance to all those who died as innocent bystanders of the sheer, unadulterated evil of Islamic terrorism against the United States of America.
ShanksvilleAndFlight93 (go see the page):
The September 11 Attack on the Pentagon (go see the page):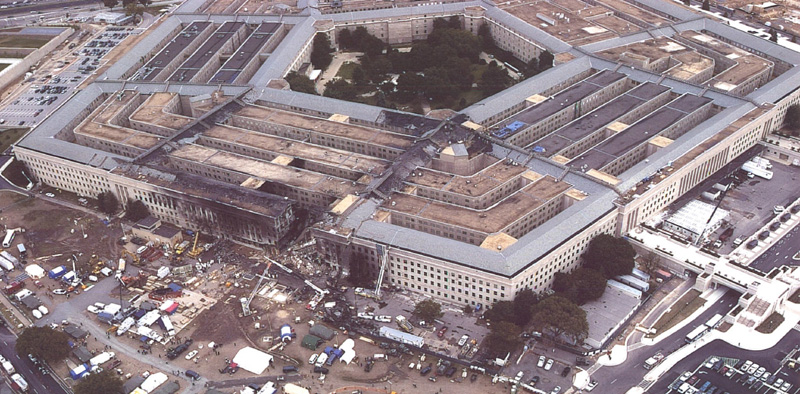 RovingPatrol (this blogger created the video to show the world's reaction to 9/11):
FoundingBloggers.com (hour-long YouTube video "[d]edicated to the memory, honor and dignity of the Falling Man"):
The following is a PowerPoint collection of pictures via Dr. Lyle Rapacki of the Arizona office of Infragard, the private investigative contractor for the FBI (he received permission from an associate to display the pics):
Remembrances:
Via HotAir.com, "Project 2996: Remembering the lost of 9/11:"
Eight years ago today at this very moment, the first of four hijacked planes hit the World Trade Center, setting off  a day of death and destruction and awakening America to the real threat of radical Islamist terrorism.  The individual victims often get forgotten in the enormity of the loss of 2,996 men, women and children, and perhaps there's a reason for that.  The horror of each individual loss would likely overwhelm us if we thought about it all of the time, if we think about the deaths each of them endured, simply because they lived in America and murderous nutcases hated them for it.

On the eighth anniversary of 9/11, we need to remember each of the victims as people, and Project 2996 helps us do that.  Bloggers will write memorials today for each of the people lost on that terrible day.   I have the honor of remembering Cesar Garcia, 36 years old, who worked for Marsh & McLennan on the 96th floor of North Tower, WTC 1.  In fact, Cesar worked in the impact zone, where American Flight 11 hit the North Tower, and Cesar may have been one of the first tower casualties in a bloody day.  Marsh & McLennan lost 295 people that day, second only to Cantor Fitzgerald, which lost 658 employees. …
Pittsburgh Post-Gazette, "Passenger: Todd Beamer:"
Sunday, October 28, 2001

As an adolescent, Todd Beamer defined himself by athletics. He excelled at Wheaton, Ill., Christian High School in baseball, basketball and soccer. And when his family moved to California before his senior year, Beamer used sports to make new friends. He also made the honor society.

He attended Fresno State University to play baseball, with an eye toward a professional career, but he soon realized that was not in his future. He returned home to Illinois to attend Wheaton College, a coed Christian school just northwest of Chicago. It was there, during a senior seminar class, that he first met his future wife.

Lisa Beamer knew who Todd was — a jock. But, she told her roommate, "sometimes people aren't what you think they are."

Their first date was Nov. 2, 1991; they had planned to mark the 10th anniversary of that date this year.

After he earned a master's in business administration from DePaul University in Chicago, the couple married in 1994 and moved to Princeton, N.J., where Beamer began his career with Oracle Corp. selling systems applications and database software.

The couple taught the senior high school Sunday school class at Princeton Alliance Church for six years, and Beamer was a stalwart on the church softball team. He did not shy away from bowling over another player if it meant winning.

Last year, the couple moved to Cranbury, N.J., 15 miles from Trenton, and Beamer made sure the game room was a shrine to his beloved Chicago Cubs, Bulls and Bears. The furnishings included a Cubs pinball game.

Their two sons, ages 4 and 2, competed with each other to meet their dad first when he came home from work. Beamer often pulled into the driveway and let the boys climb inside with him to "drive" into the garage.

Beamer's work forced him to travel up to four times a month, sometimes for as long as a week. He was good at his job, and was on his cell phone constantly. This year, he earned a five-day trip to Italy with his wife for being a top sales performer.

They returned home on Monday, Sept. 10, at 5 p.m. While Beamer could have left that night for a Tuesday business meeting in California, he wanted to spend time with his sons and his wife, who is due in January with their third child.

He left home at 6:15 a.m. the next morning, planning to return on a red-eye flight that night.
Via UnitedHeroes.com:
Todd and other passengers had been in communication with people via in-plane and cell phones and learned that the World Trade Center had been attacked using hijacked airplanes. Beamer tried to place a credit card call through a phone located on the back of a plane seat but was routed to a customer-service representative instead, who passed him on to supervisor Lisa Jefferson. Beamer reported that one passenger was killed and, later, that a flight attendant had told him the pilot and co-pilot had been forced from the cockpit and may have been wounded. He was also on the phone when the plane made its turn in a southeasterly direction, a move that had him briefly panicking. Later, he told the operator that some of the plane's passengers were planning "jump on" the hijackers. According to Jefferson, Beamer's last audible words were "Are you guys ready? Let's roll." This term would later become the war cry for those fighting Al Qaeda in Afghanistan.

Though it was a widely-held belief that the passengers crashed the airliner in an attempt to save the lives of others on the ground, the 9/11 Commission's findings (based on the "black box" cockpit recording) were that the passengers on Flight 93 did not cause the plane to crash intentionally. They burst into the cockpit and fought with the terrorists over the controls for the plane.

A post office in Cranbury, New Jersey, was named after him. There is also a high school (Todd Beamer High School) in Federal Way, WA, named after Beamer. Wheaton College also has a building named after him (the Todd M. Beamer Student Center). Beamer attended Los Gatos High School, Wheaton Academy, DePaul University, California State University, Fresno and Wheaton College.

[Todd Beamer was an account manager at Oracle Corp., and was 32 in 2001. He is surived by wife, Lisa; sons, David, 4, Drew, 2, and daughter Morgan Kay, born four months later]
Others:
-Phil
Subscriptions -=- Twitter: @trsol -=- Facebook (TRSoL) -=- Facebook (Rightside Phil)
Photo courtesy Yahoo!